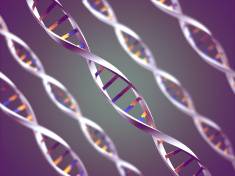 NHS to offer gene therapy for rare eye disease
The NHS is set to offer a new gene therapy which slows down loss of sight in patients suffering from retinal dystrophies, an inherited and rare eye disorder.
Congenital retinal dystrophies, which cause a gradual degeneration of the light-sensitive cells on the retina, are usually diagnosed in childhood. The condition brings about vision loss, ultimately leading to almost total blindness. There is currently no treatment for the condition.
The new gene therapy treatment will be suitable for patients with a mutation of the RPE65 gene, which should deliver instructions to create a protein which is key to normal vision. In the new therapy, a healthy copy of the gene is directly injected into the eye so that an effective protein can be produced.
NHS England's chief executive, Simon Stevens, said "Once again the NHS is at the forefront of the genomic revolution with patients in England among the first to benefit from this revolutionary new form of treatment."
The Royal Society for Blind Children's Sue Sharp, said "We see first-hand the devastating effect of childhood sight loss, and so we welcome news of this breakthrough therapy and its impact on the lives of children with inherited retinal dystrophies disorder."
Dr Mariya Moosajee of Moorfields Eye Hospital, said "This exciting news will give hope to patients where previously there was none.
"Diagnosing and treating genetic eye conditions is extremely complex and challenging but we are now in a position to tell patients who have a genetic change in the RPE65 gene that a treatment is available on the NHS that my help slow down their sight loss."
Chadwick Lawrence's specialist team of clinical negligence lawyers have years of experience in medical negligence claims, providing support and guidance after life-changing events. Not only do we represent clients in Yorkshire, but because of our reputation we also represent clients nationally.
If you believe that you or a relative may have been injured as a result of clinical/medical negligence, please call for free legal advice from our medical negligence solicitors on the freephone number below.
Posted by Tony May, Partner/head of Clinical Negligence Department, Chadwick Lawrence LLP (tonymay@chadlaw.co.uk ), medical negligence lawyers and clinical negligence solicitors in Huddersfield, Leeds, Wakefield and Halifax, West Yorkshire.
Freephone : 0800 304 738