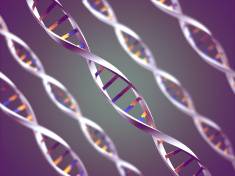 Scientists identify 350 DNA 'errors' that make women prone to developing breast cancer
A Cambridge University study of 200,000 patients identified 352 genetic mutations that can influence whether a person is likely to develop the disease.
The findings could help to identify which women are predisposed to developing the disease and thereby allow them to be monitored more closely.
Breast cancer is the most common type of the disease, with more than 55,000 new cases each year in the UK.
In this study, the DNA of 110,000 breast cancer patients was compared with that of 90,000 healthy people. 352 variants were identified that may increase the risk of the disease. It is not yet known exactly how many genes these target, but the researchers estimate it to be 191.
Dr Alison Dunning, leader of the study, said "This incredible haul of newly-discovered breast cancer genes provides us with many more genes to work on, most of which have not been studied before.
"It will help us build up a much more detailed picture of how breast cancer arises and develops.
"But the sheer number of genes now known to play a role emphasises how complex the disease is."
Dr Laura Fachal of the Wellcome Sanger Institute in Cambridge and co-author of the study, said "We know from previous studies that variants across our DNA contribute towards breast cancer risk, but only rarely have scientists been able to identify exactly which genes are involved.
"We need this information as it gives us a better clue to what is driving the disease and hence how we might treat or even prevent it."
Chadwick Lawrence's specialist team of clinical negligence lawyers have years of experience in medical negligence claims, providing support and guidance after life-changing events. Not only do we represent clients in Yorkshire, but because of our reputation we also represent clients nationally.
If you believe that you or a relative may have been injured as a result of clinical/medical negligence, please call for free legal advice from our medical negligence solicitors on the freephone number below.
Posted by Tony May, Partner/head of Clinical Negligence Department, Chadwick Lawrence LLP (tonymay@chadlaw.co.uk ), medical negligence lawyers and clinical negligence solicitors in Huddersfield, Leeds, Wakefield and Halifax, West Yorkshire.
Freephone : 0800 304 738