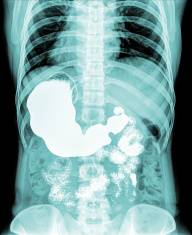 Studies claim health predictions may be diagnosed through gut bacteria
The National Institutes of Health in the US have recently published three major studies on gut bacteria, which found that repeated tests located the microbial zoo changing in ways that can eventually assist doctors in determining who may be at risk of inflammatory bowel disease and premature birth.
Researcher from the institute, Dr Lita Proctor, said "The instability of our microbiome might be an early indicator of something going awry."
Microbiomes start to form from birth and vary depending on whether babies were born via C-section or vaginally. They also change with different exposures and age, for example a course of antibiotics is able to wipe out friendly bacteria as well as infection-causing ones.
Around 10 per cent of babies are born prematurely and researchers have located a warning sign in the vaginal microbiome, which changes over the course of a pregnancy. It found that women who delivered prematurely had lower than normal levels of a type of Lactobacillus bacteria and also higher levels of certain other bacteria, which are linked to inflammation.
Research also found that in patients with inflammatory bowel disease, as the condition waxes and wanes, so does their microbial activity, and their gut microbiome also changes radically in the few weeks before a flare-up.
Ken Cadwell of NYU Langone Health, who wasn't involved in the research, agreed that the studies provided "an amazing and overwhelming amount of data" but added that more work was required to determine whether the clues would pan out. He cautioned "If you test your microbiome on Tuesday, it's going to tell you about your microbiome on Tuesday".
Chadwick Lawrence's specialist team of clinical negligence lawyers have years of experience in medical negligence claims, providing support and guidance after life-changing events. Not only do we represent clients in Yorkshire, but because of our reputation we also represent clients nationally.
If you believe that you or a relative may have been injured as a result of clinical/medical negligence, please call for free legal advice from our medical negligence solicitors on the freephone number below.
Posted by Karen Motley, Clinical Negligence Department, Chadwick Lawrence LLP (tonymay@chadlaw.co.uk ), medical negligence lawyers and clinical negligence solicitors in Huddersfield, Leeds, Wakefield and Halifax, West Yorkshire.
Freephone : 0800 304 738