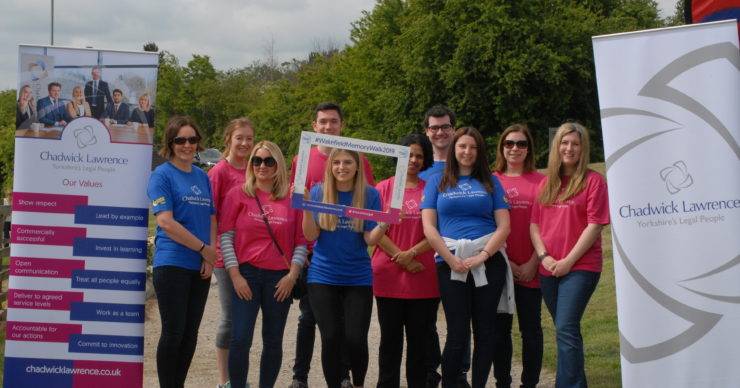 Chadwick Lawrence Sponsor Wakefield Memory Walk 2019
As a part of their continuous charitable efforts, Chadwick Lawrence Solicitors – commonly known as 'Yorkshire's Legal People' – sponsored the kick-off event of Wakefield's Dementia Action Week 2019.
The event, Wakefield Memory Walk, took place on Sunday the 19th May at Pugneys Country Park in support of the Alzheimer's Society. An estimated 300 people attended the walk, including the local Mayor.
The Walk was organised by a dedicated team of volunteers, with the aim of raising awareness and funds for the Alzheimer's Society, so that they can continue their inspiring work with those living with dementia, along with their families and carers.
The day was full of fun activities for all the family including a tombola and teddy game, alongside information stands from various dementia groups. The Walk began at 11am around Pugneys Country Park's picturesque lake.
For those who were walking for, or in memory of, a loved one, there was a symbolic Memory Tree on which to hang a heart with their name on it.
Chadwick Lawrence Partner, Sarah Power, commented: "We were very proud to be a sponsor of this year's Memory Walk. The Alzheimer's Society do incredible work, and we are very happy to be playing our part in raising money and awareness for such a worthy cause."