Spinal Cord Injuries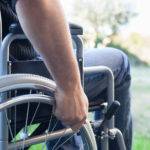 The spine is divided into sections, cervical (neck), thoracic, lumbar and sacral with different nerves attached at each level. Damage to the cervical spine could affect the use of the hand and arm, damage at the thoracic level could result in chest and abdominal problems and at the lumbar sacral level could result in bladder and bowel symptoms and can affect the lower limbs. Severe damage can result in paralysis where all power and sensation below the level of injury is lost. If damage is at the cervical level, both arms and legs may be affected. Paralysis of all 4 limbs is known as quadriplegia. Once the spinal cord has been damaged it cannot repair itself and damage can be permanent. However, if the cord has only been partially compressed by the injury and compression can be successfully released, there may be recovery of function.
Spinal cord injury medical negligence claims can involve delayed diagnosis, treatment and surgery for spinal conditions including spinal cord abscesses, spinal fractures, spinal cord tumours, or cauda equina syndrome. Spinal cord injuries can also be caused by substandard surgery. Urgent surgery is required in the case of cauda equina syndrome in order to avoid permanent damage.
Cauda equina syndrome is where there is compression to the nerves at the base of the spine, causing severe back pain, foot drop, numbness, weakness, loss of sensation and pain in the legs, buttocks, saddle area and pelvis, bladder incontinence, loss of normal bowel function and impaired sexual function. The most severe spinal cord injury claims can result in temporary or permanent paralysis, including paraplegia, quadriplegia or death.
As well as compensation for the injury, pain and suffering, Claimants with spinal cord injuries may receive compensation for:
Loss of past and future earnings
Past and future care and assistance
The cost of suitable accommodation or adaptations to accommodation
Aids and equipment such as wheelchairs, crutches or walking sticks, special shoes special beds and chairs
Cost of treatment such as rehabilitation, surgery, specialist orthotics and physiotherapy
Additional travelling and transport costs
Our dedicated team of specialist clinical negligence solicitors at Chadwick Lawrence are experts in dealing with medical negligence compensation claims including spinal cord injury and cauda equina syndrome claims. We deal with claims countrywide. We are based at our Huddersfield office, but can visit you in your home or in hospital if you are unable to attend at one of our West Yorkshire offices. If you or someone you know has a spinal
cord injury which may have been caused or contributed to by medical negligence, please contact our specialist no-win-no-fee medical negligence lawyers for free legal advice on: