Surgery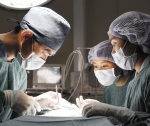 Our team of specialist medical negligence lawyers at Chadwick Lawrence have expertise in all types of surgical negligence compensation claims.
Surgery includes general surgery, colorectal surgery, upper gastrointestinal surgery, surgery to the biliary tract, vascular surgery, cardiac surgery, other chest surgery, orthopaedic surgery, spinal surgery, neurological surgery, urology and renal surgery gynaecological surgery, obstetric surgery such as caesarean section and cosmetic surgery.
General surgery refers to operations carried out on the bowel, abdomen, bile ducts, gut, gallbladder, stomach, colon, liver, pancreas and breast. Surgery can be planned or carried out as an emergency. The development of keyhole surgery (laparoscopic surgery) has led to an increase in the number of claims.
Surgical negligence claims include failure to obtain consent or informed consent before surgery, inadequate preoperative investigations, assessment or preparation for surgery, delay in diagnosis, delay in surgery, negligence during surgery, unnecessary surgery consequent on misdiagnosis and failure to diagnose and treat post operative problems such as infection, compartment syndrome or haemorrhage.
If you believe you or someone you know has been injured as a result of surgical negligence, please contact our expert, no win no fee medical negligence lawyers.