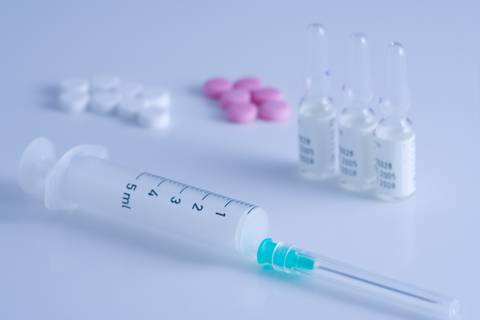 'Revolutionary' treatment for prostate cancer
Experts say Olaparib could become a revolutionary drug in the fight against prostate cancer and the first genetically targeted treatment for fighting the disease.
The precision treatment, which is currently used by the NHS for ovarian cancer, is being called a game-changer by oncologists.
The drug which is also known as Lynparza, works by identifying and destroying cancer cells with the faulty genetic codes BRCA1 and BRCA2, whilst sparing normal healthy cells.
One in eight men will be diagnosed with prostate cancer in their lifetime. It usually affects men over the age of 50 and the risk increases with age.
Although not all tumours need immediate treatment and can be carefully monitored if diagnosed at an early stage, some cases are more aggressive and need treatment.
Professor Johann de Bone of the Institute of Cancer Research and co-leader of the drug trial, said "It's essential that we become smarter in the way we treat prostate cancer, so that every man gets the treatment that will be of greatest benefit to them."
Prostate Cancer UK's Dr Matthew Hobbs, said "This hugely exciting result represents a revolution in the treatment of prostate cancer. It finally brings prostate cancer medicine into the 21st Century by giving us, for the first time ever, a therapy that makes use of genetic testing of the tumour to work out which men will benefit.
"This kind of precision medicine approach is already used to treat other cancers, and we hope olaparib will become the first of many treatments for prostate cancer which are based on this sort of detailed understanding of an individual man's tumour."
Chadwick Lawrence's specialist team of clinical negligence lawyers have years of experience in medical negligence claims, providing support and guidance after life-changing events. Not only do we represent clients in Yorkshire, but because of our reputation we also represent clients nationally.
If you believe that you or a relative may have been injured as a result of clinical/medical negligence, please call for free legal advice from our medical negligence solicitors on the freephone number below.
Posted by Karen Motley, Clinical Negligence Department, Chadwick Lawrence LLP (tonymay@chadlaw.co.uk ), medical negligence lawyers and clinical negligence solicitors in Huddersfield, Leeds, Wakefield and Halifax, West Yorkshire.
Freephone : 0800 304 738