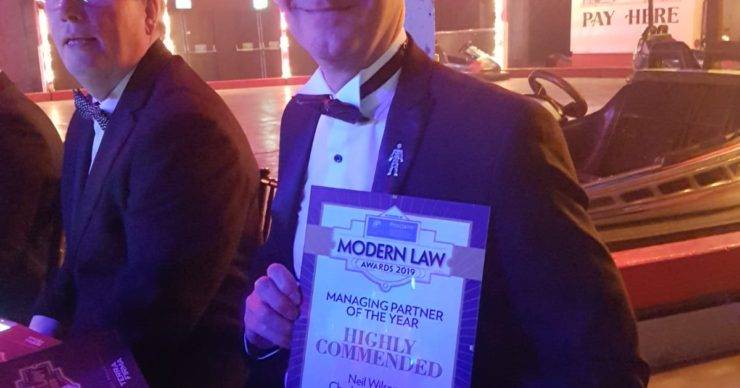 Chadwick Lawrence Highly Commended for Managing Partner of The Year Award at The Modern Law Awards
The Modern Law Awards is a prestigious awards ceremony launched 6 years ago to reward incredible talent within the legal world. Award categories vary from Lifetime Achievement to Rising Star of the year, and each are intended to showcase the range of talent within the industry whilst giving just reward to those who have earnt it. The awards are highly competitive with a range of talent from within the Law sector entering yearly in hopes of taking away one of the highly coveted awards.
Managing Partner Neil Wilson was highly commended at the ceremony last night, the 31st of January, for the award of Managing Partner of the Year; this award is described by the Modern Law Awards as for an individual who has "Helped the business to overcome challenges by driving an inclusive culture, leadership style and coherent strategy, allowing the business to achieve sustainable and superior outcomes, with an emphasis on contributions made in the past year." As well as "Helped to support both staff and clients in order to drive forward the firm's business."
Neil was awarded the Yorkshire Legal Awards Managing Partner of the Year 2016 / 17 and has a range of achievements under his belt. Neil specialises in sports law and employment law and works for some widely known organisations and sports clubs including Kwik Fit, Leeds Rhinos and Huddersfield Town Football Club. Neil is at the forefront of driving the culture of Chadwick Lawrence, and plays a huge part in events including speaking and employment law training.
Neil commented "I am delighted and honoured to be highly commended in the Managing Partner of the Year category. Chadwick Lawrence has been at the heart of all I have done over the past several years, and I hope to continue to drive the business forward both internally, in improving our culture and training, and externally as Chadwick Lawrence grows as a business, something which would not be possible without the huge support I have from my colleagues and I thank them very much for that."