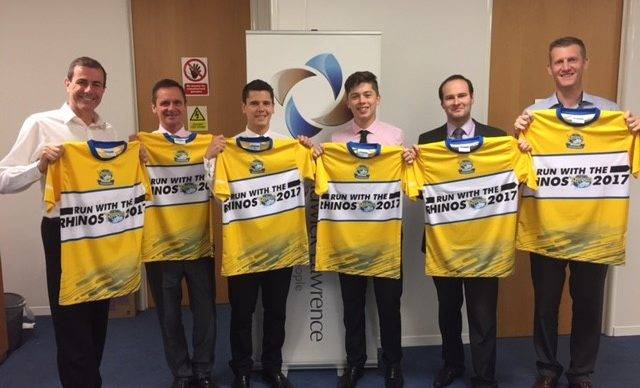 Chadwick Lawrence Solicitors Run with the Rhinos Challenge
The Chadwick Lawrence team are excited to show their support for the Run with the Rhinos challenge and taking part in this year's Asda Foundation Leeds 10k.
16 members, including Managing Partner Neil Wilson, of the Yorkshire legal firm have joined forces for the event, and will be joining 75 other supporters of the Leeds Rhinos' official charity who will also be tacking the 6.2 mile race through the streets of Leeds in July.
Chadwick Lawrence recently renewed their long-standing partnership with the club in March, which continues their contract as official legal partners to the club, and in doing so strengthening a decade long relationship between the two organisations. Ex-Leeds Rhinos player, Kevin Sinfield, is also an ambassador of the firm.
With less than 30 days to go, the firm are in training for the event with the in-house competition equally as intense as always.
"We are really looking forward to the event" commented Neil Wilson of Chadwick Lawrence, "We have taken part for many years and are particularly looking forward to running with the Rhinos this year. We all tend to get together afterwards for a drink and to compare blisters.
"Training is usually a tightly kept secret, with most runners having you believe they haven't started training yet. The competition in Chadwick Lawrence is always intense.
Leeds Rhinos Foundation's Run with the Rhinos team will be headlined by Leeds Rhinos legends Kevin Sinfield and Barrie McDermott, who will be joining the runners for the event for the second year in a row, providing extra incentive for runners to get involved this year.
Leeds Rhinos Foundation's Run with the Rhinos Challenge team has now sold out for 2017 but if you would like to support the Chadwick Lawrence runners in raising money for the Leeds Rhinos Foundation, why not make a donation online to the Chadwick Lawrence Just Giving page?
https://www.justgiving.com/fundraising/clrunwiththerhinos