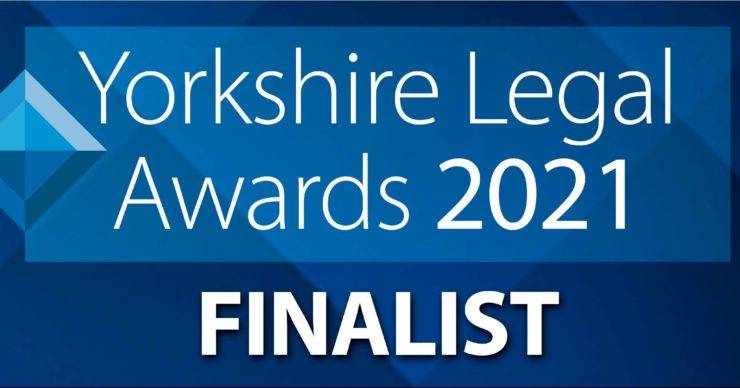 Chadwick Lawrence Shortlisted at the Yorkshire Legal Awards 2021
Chadwick Lawrence have been shortlisted within two categories for this year's Yorkshire Legal Awards. With the official ceremony taking place on Thursday 7th October 2021 at New Dock Hall in Leeds.
Shortlisted for the Trainee Solicitor of the year award is Ellie Hirst, a Trainee Solicitor at Chadwick Lawrence currently specialising in Wills, Powers of Attorney and Probate. This is an incredible achievement for Ellie who joined the firm in May 2019 as a Paralegal. Starting her Training Contract with the firm in April 2020 and Ellie is due to qualify as a Solicitor in October this year. Finalists are chosen for this category based on excellent standards of work, dedication to the job, contribution to client relationships and contributions in the community, including pro-bono work.
Acclaim Credit Management and Recovery have also been shortlisted in the Debt Recovery category, after a successful win last year in the same category. Their shortlisting for the second-year running is testament to the team and the growth of the service offering and its contribution to the firm as a whole. The shortlisting also recognises Acclaims achievement in customer satisfaction and integrity.
The Yorkshire Legal Awards recognises outstanding talent across the region. The award categories cover everything from the biggest corporate firms to leading barristers, senior partners, and rising stars. With the event this year being a glittering black-tie formal event, after being held virtually previously due to the pandemic.
Trainee Solicitor Ellie Hirst commented "I am delighted to have been shortlisted in the Trainee Solicitor category. It is great to be recognised for what I have achieved since starting my career at Chadwick Lawrence and I am excited to attend the ceremony alongside The Acclaim team!"
Partner at Chadwick Lawrence & Head of Acclaim Credit Management and Recovery, Dan Hirst, also commented: "We are very proud to be shortlisted at the Yorkshire Legal Awards 2021. After our success in the category of Debt Recovery in 2020, we have ensured that we have maintained and improved on the customer journey. The team have worked hard to achieve a nomination in the category for 2021 and are very pleased to be finalists"