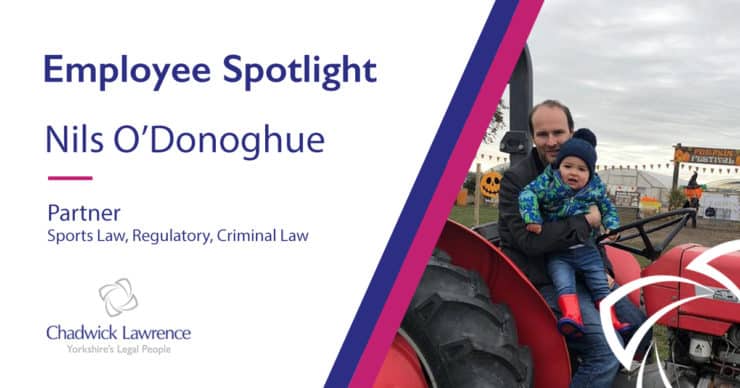 Employee Spotlight – Nils O'Donoghue
Each colleague at Chadwick Lawrence is a valuable member of the team, which is why we've decided to introduce you to a different colleague each month to learn more about the great team at Chadwick Lawrence.
In this Q&A, we're finding out more about Nils O'Donoghue, a Partner at Chadwick Lawrence. Discover what his role entails, what inspires and what motivates him…
What is your current role and how did you come about working at Chadwick Lawrence?
I am a Solicitor who works in Chadwick Lawrence's Regulatory and Crime team. I was lucky enough to secure a two week work placement whilst at school in 2003 and following university and law school I joined Chadwick Lawrence as a Trainee Solicitor in 2011 in the Employment Department and subsequently qualified with the firm and became a Partner in October 2017.
What inspired you most to pursue a career in the legal profession?
I really enjoyed my work placement at Chadwick Lawrence and decided afterwards I wanted to do law at A level and then a law degree and hopefully become a lawyer. I spent a lot of time in court and the police station on my work placement and always wanted to work in a team where going to court was involved.  Once I completed law school in Nottingham it was a natural step to return back to my hometown.
What is the best piece of advice you have ever been given?
That life is so much easier when you are organised! When I first started working as a Trainee Solicitor I had never really had to be super organised whilst at University but I quickly realised that having a plan for each day and a system behind the way I work was going to be crucial. I like to think I am pretty good now at being able to deal with high volumes of work and different work types because of the work I do each day on being organised in the background.
What do you enjoy most about your role?
I am a sports fan so working with the clients we have who are sports clubs and athletes is fantastic and a real privilege. I am lucky that I get to work on lots of different types of cases with a wide spectrum of people some of whom are individuals and some are businesses. I also really enjoy any time we attend court and achieve a positive outcome for a client
But the fact that no two days are ever the same and I am working in a forward thinking, friendly and rapidly developing department are the two parts about my role I enjoy most.
What motivates you?
The Regulatory and Crime team has made some huge steps forward in a very short space of time. We have acted in some extremely interesting and high profile cases over the last few years and seeing that development has been extremely enjoyable and something we are all proud of. My motivation is to continue to help this development, rapid growth and high level of customer service that our clients are now accustomed to.