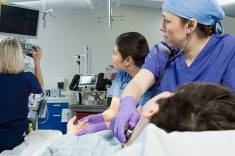 Expert urges Covid patients and NHS staff be screened for post-traumatic stress
A leading psychiatrist has warned that "all the dials are pointing the wrong way" in relation to the nation's health, raising concerns of post-traumatic stress disorder (PTSD) among NHS staff and patients in the aftermath of the pandemic.
Dr Adrian James, president of the Royal College of Psychiatrists, has called for an urgent plan to address mental health issues, which he said may last for years after the immediate threat of the virus recedes.
Dr James added that all Covid hospital patients should be screened for PTSD and offered ongoing support as a result of their ordeal, and also called for NHS staff to be monitored in case they were suffering as a result of their work during the pandemic.
He said "People should be screened for post-traumatic stress disorder before they leave, and then be followed up. Most people who experience symptoms will spontaneously recover, but it's actually still good to have a discussion back to your GP to check to make sure that things are recovering. A small but significant group of people will actually need psychological therapies in order to help them over that. And if they don't get those, it can become really very, very chronic."
He also warned that between a third and a half of patients who had been ventilated in hospital as a result of Covid, experienced symptoms of PTSD, and also around 20 per cent of staff working in intensive care.
Nadine Dorries, minister for mental health, said she was deeply aware of how difficult the pandemic had been and stressed that the government remained committed to supporting mental health and wellbeing.
She said "We recognised this by keeping mental health services open throughout the pandemic and through the biggest increase in mental health funding in NHS history. This funding will give more people the support they need, including for conditions like PTSD. We continue to strengthen our workforce, with 8,400 more people employed by the NHS mental health workforce in the past year alone."
Chadwick Lawrence's specialist team of clinical negligence lawyers have years of experience in medical negligence claims, providing support and guidance after life-changing events. Not only do we represent clients in Yorkshire, but because of our reputation we also represent clients nationally.
If you believe that you or a relative may have been injured as a result of clinical/medical negligence, please call for free legal advice from our medical negligence solicitors on the freephone number below.
Posted by Tony May, Partner/head of Clinical Negligence Department, Chadwick Lawrence LLP (tonymay@chadlaw.co.uk ), medical negligence lawyers and clinical negligence solicitors in Huddersfield, Leeds, Wakefield and Halifax, West Yorkshire.
Freephone : 0800 304 7382