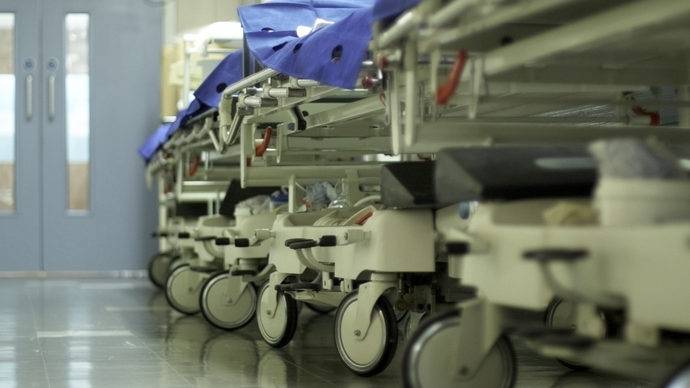 Hundreds of patients in Cornwall 'unable to leave hospital'
Senior health bosses say hundreds of Cornwall patients are unable to leave hospital because carers and care packages are not available for them.
Staff say over 200 patients, including at the Royal Cornwall Hospital in Truro, had nowhere to be discharged to, even though they were medically ready to leave, and that this had stopped new patients from being admitted, with 22 ambulances waiting outside the emergency department earlier this week.
Dr Roby Slade, director of emergency care at The Royal Cornwall Hospitals Trust, said these were "some of the most testing situations that we've ever worked in".
In addition to patients being unable to be discharged, staff said they were also currently busier than they were at the height of the pandemic, with that also putting massive pressure om ambulances and hospitals.
Dr Slade said the emergency department at the Truro hospital was designed "for about 40 patients at any one time and, unfortunately, we are regularly seeing in excess of 80 that is putting a huge amount of pressure on the staff."
He went on to say that patients' relatives could help and "anybody who has any friends or family in hospital awaiting social care, if there's anything they can do to support their loved ones at home, that will have an immediate impact on ambulance delays."
Cornwall Council said that, like "many other regions across the UK who also have ageing populations", demand for care in the region was "outstripping supply".
Chadwick Lawrence's specialist team of clinical negligence lawyers have years of experience in medical negligence claims, providing support and guidance after life-changing events.  Not only do we represent clients in Yorkshire, but because of our reputation we also represent clients nationally.
If you believe that you or a relative may have been injured as a result of clinical/medical negligence, please call for free legal advice from our medical negligence solicitors on the freephone number below.
Posted by Karen Motley, Clinical Negligence Department, Chadwick Lawrence LLP ([email protected] ), medical negligence lawyers and clinical negligence solicitors in Huddersfield, Leeds, Wakefield and Halifax, West Yorkshire.
Freephone : 0800 304 7382