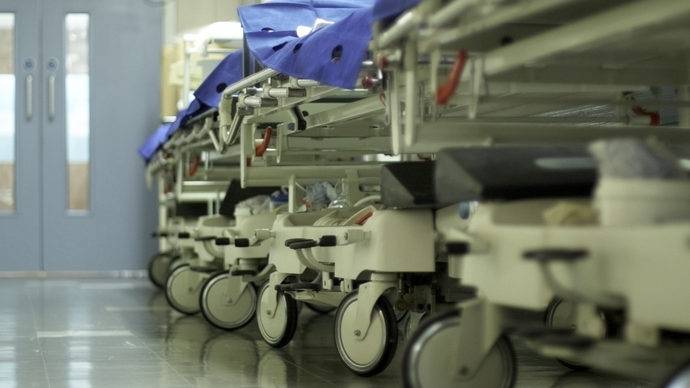 NHS services in Teesside face 'difficult January'
Teesside health officials say they are facing "a difficult January" as they deal with significant increases in coronavirus cases together with a surge in staff absences.
Middlesborough currently has the highest rate of Covid infections in England, with Redcar, Hartlepool and Stockton also among the top eight.
Additional wards have had to be opened at hospitals to cope with up to four times as many admissions since the end of last year.
David Reaich, deputy chief medical officer for South Tees Hospitals NHS Foundation Trust said the "very significant rise" in hospital admissions was likely to continue in the coming days and weeks.
He said "We have three times as many patients in hospital as we did just before Christmas, and that puts a great deal of strain across the system.
"The number is going to continue to rise; we don't know when it will plateau.  We are certainly seeing higher admissions on a day-to-day basis than for quite some time.
"The likelihood is it will continue because community cases are rising.
"I think we are going to have a difficult January.  Let's see how things go over the next two to three weeks.  Then we will hopefully begin to see some light."
Chadwick Lawrence's specialist team of clinical negligence lawyers have years of experience in medical negligence claims, providing support and guidance after life-changing events.  Not only do we represent clients in Yorkshire, but because of our reputation we also represent clients nationally.
If you believe that you or a relative may have been injured as a result of clinical/medical negligence, please call for free legal advice from our medical negligence solicitors on the freephone number below.
Posted by Karen Motley, Clinical Negligence Department, Chadwick Lawrence LLP ([email protected] ), medical negligence lawyers and clinical negligence solicitors in Huddersfield, Leeds, Wakefield and Halifax, West Yorkshire.
Freephone : 0800 304 7382