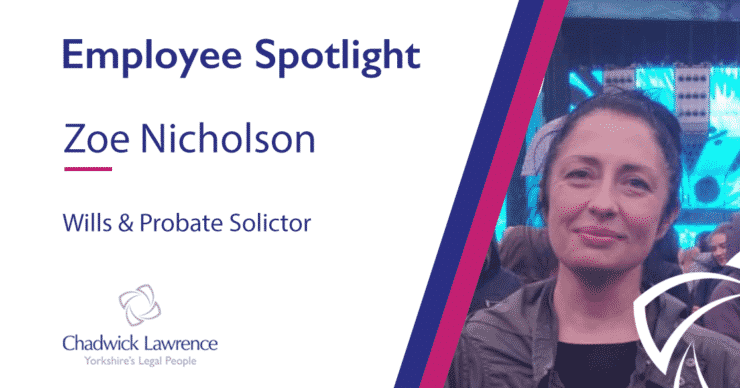 Employee Spotlight – Zoe Nicholson
Each colleague at Chadwick Lawrence is a valuable member of the team, so we want to introduce  a different colleague each month to understand more about the great team at Chadwick Lawrence.
In this Q&A, we're finding out more about Zoe Nicholson, a Solictor in the Wills & Probate team at Chadwick Lawrence.
What do you enjoy most about your job role? 
I really enjoy the variety that private client work brings. I have a lot of a client contact and each client is different. It keeps the job interesting!
What was the last thing you accomplished at work that you were most proud of?
Its not so much a 'thing' but I am proud of we accomplished throughout the pandemic. Myself and my direct team made an incredible success in particularly difficult circumstances. I learnt a lot about my own capabilities and that has given me sense of pride.
Have you always want to work in a legal profession? What was your journey to Chadwick Lawrence? 
I have pretty much always wanted to be a solicitor. I have spent my career working in Yorkshire. Most recently at Whitaker Firth Solicitors which then merged with Chadwick Lawrence in July 2019.
Which one word do you think your colleagues would use to describe you?
Helpful – I always try and assist whenever I am able
What is the best piece of advise you have ever been given?
Maintain your integrity.