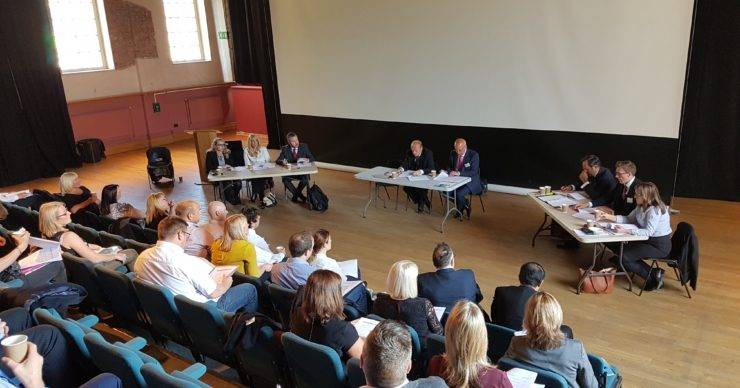 Chadwick Lawrence Solicitors host Mock Tribunal event in conjunction with Riley's
On Wednesday 10th May Chadwick Lawrence solicitors held a Mock Employment Tribunal in partnership with Riley & Co Accountants to demonstrate the events that occur during an Employment Tribunal case. The event was hosted at Square Chapel in Halifax, and was extremely well attended by local business leaders.
The fictitious case demonstrated what would typically occur during a constructive unfair dismissal and sex discrimination case, and was heard by an 'Employment Judge', complete with 'Claimants' and 'Respondents' to ensure delegates received an accurate picture of skills required as a representative or witness in a similar trial.
Trial bundles and witness statements were provided beforehand to ensure maximum understanding of the facts and legal issues before the trial. Throughout the trial, delegates were invited to ask questions of the witnesses and volunteers acted as lay members. After hearing the witness evidence and closing submissions, delegates had the opportunity to ask questions and vote on what they believed the outcome would be prior to the delivery of the final verdict.
Experienced barristers from Broadway House Chambers donated their time to play the parts of Judge and Barristers, and provided delegates with a great opportunity to witness a live mock employment tribunal hearing.
This provided local business members the opportunity to experience how the tribunal process is conducted and to see how the outcome is determined. It also provided delegates with the opportunity to learn how they should prepare should they find themselves in a similar situation, and to appreciate the tension and the drama that can sometimes be involved in cases such as this.
Sam Pawson, Commercial Development Co-ordinator at Chadwick Lawrence, commented: "It was interesting to witness not only the mock tribunal itself, but how our delegates engaged with the event and the questions they proposed throughout. There was a great attendance from local business leaders who have equally praised the event and how informative it was."
Simon Walton of Riley's & Co Accountants commented: "We were thrilled by the turnout at the Mock Tribunal event and were happy to be a co-host for such an informative event for the local business community."
A delegate, Charles Brook of Brooks Business Recovery commented: "I just want to say, thank you, for an excellent event and a superbly managed presentation.  It worked really well to underline just why you not only need to have processes and procedures in place to address the issues that it touched upon but, also the fundamental importance of making proper enquiries, keeping contemporaneous notes, notifying and recording the basis of decisions and generally, not acting in an arbitrary manner.
Thanks to you all for co-hosting this exceptionally interesting and useful event and for inviting me.  I wish now that I had brought more of my team along. If I have any employment-related issues I will be calling Chadwick Lawrence first"