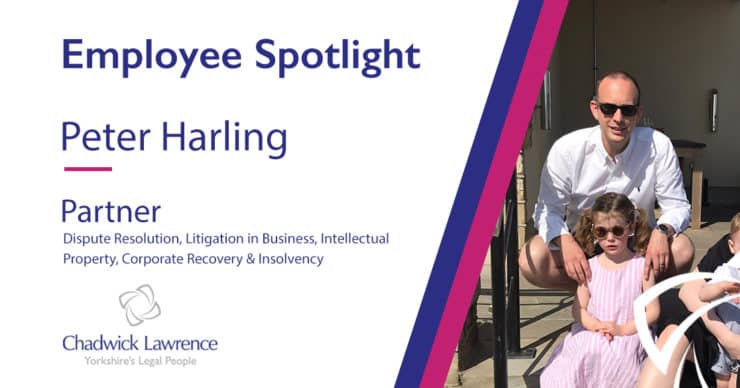 Employee Spotlight – Peter Harling
Each colleague at Chadwick Lawrence is a valuable member of the team, and we want to showcase each individual behind the Chadwick Lawrence wheel.
In this Q&A, we're finding out more about Peter Harling, a Partner at the firm. Getting to know about his first jobs and how he became a solicitor at Chadwick Lawrence…
Summarise your role in one paragraph
I am a Partner in Chadwick Lawrence's Litigation, Resolution and Recovery team. My primary role is to project manage and resolve commercial and contractual disputes as quickly and as efficiently as possible whilst providing a good customer service that represents good value for money.
What is your favourite part of your position at Chadwick Lawrence?
I enjoy finding practical and commercial solutions to problems and negotiating favourable settlements.
Which one word do you think your colleagues would use to describe you?
Pragmatic.
What was the first job you had?
I have worked from an early age and had a number of different jobs including washing cars, a paper round, pot washing at a Hotel, picking & packing at Empire Stores, stacking shelves at Asda, and serving Fish & Chips at Wetherby Whaler! All of which have taught me a number of valuable lessons and skills which stand me in good stead now including hard work, customer service, and the value of money.
What inspired you to work in the legal sector?
I never aspired to be a solicitor. I have always been encouraged to do what I enjoy and be the best that I can be.  I enjoy sport (in particular football and tennis) and have a Sports Science degree.  I anticipated analysing and improving the performance of athletes but whilst looking for a future in Sports Science I started working at Chadwick Lawrence and 17 years on I have worked my way up from office junior to Partner.